Graduate Student Theresa Alexander Studies Changes in Neurons that Affect Mammals' Sleep Cycles
Theresa Alexander, a graduate student in the Center for Bioinformatics and Computational Biology (CBCB), loves all kinds of creatures and spends her free time with her dog Fibonacci and riding her horses Ella, Spotty and Fergus.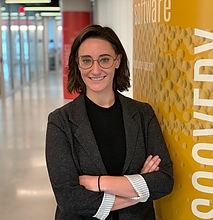 As a fourth-year doctoral student in biological sciences, Alexander's love of animals extends down to investigating very specific biological problems that affect them.
She earned her master's degree in epidemiology and biostatistics with a focus on genetic biostatistics from Case Western Reserve University in 2017. Currently, she is co-advised by Najib El-Sayed, a professor of cell biology and molecular genetics with a joint appointment in the University of Maryland Institute for Advanced Computer Studies (UMIACS), and Colenso Speer, an assistant professor of biology.
Her most recent work focuses on investigating a specific neuronal cell type that syncs mammals' sleep/wake cycle—known as circadian rhythm—to the sun cycle. These specific cells in the brain—called intrinsically photosensitive retinal ganglion cells (ipRGCs)—have a protein that makes them photosensitive, meaning these neurons send action potentials from your eye to a specific part of the brain when light photons enter your eye.
Alexander says neurons have to package and ship mRNAs far distances to then be turned into proteins in these distal parts of the cell. Messenger ribonucleic acid—or mRNA for short—is a molecule that carries genetic code from DNA to the rest of the cell.
"One problem we are trying to understand is what mRNAs actually get shipped out to these far-away compartments in these specific neurons—i.e. how does the USPS sorting center in the neuron cell body decide which mRNAs get packaged up and sent out to the processing centers in the 'rural' parts of the cell," she explains.
The second major problem involves looking at the heterogeneity between different neuronal cell-types and sub-cell types. IpRGCs can be split into six different "sub-cell" types. Each of these cell types goes from the retina to different brain targets to perform different functions—some help us maintain our sleep-wake cycles in coordination with the sun cycle while others have image-forming visual functions.
"What we want to help shed light on is how these cells differ from other subtypes based on which genes each expresses throughout development at different critical neuronal growth stages," Alexander says.
Her group is currently studying ipRGCs in mice, but says she hopes that these results extend to ipRGC function in other mammals.
Alexander enjoys working in CBCB because of the sense of community and the wide array of research being conducted.
"It is absolutely amazing to get a room full of people from so many backgrounds and specialties together," she says. "There's always a unique perspective to solve a problem, and if I am working on a new problem or an area which I am not familiar with, there's always someone to go to who has some experience with it."
El-Sayed says Alexander contributes a "wealth of interdisciplinary knowledge" to his lab as well as CBCB.
"Theresa is well-grounded both in the life sciences and bioinformatics and brings a deep understanding of statistical inference to our analyses," he says. "In addition to her impressive intellectual capacity, she is pleasant, positive and simply fun to work with."
Alexander is also a UMD COMBINE (Computation and Mathematics for Biological Networks) fellow, a National Science Foundation-funded Research Traineeship (NRT) program in network biology.
Additionally, she volunteers for "Girls Talk Math," a summer program for high school students that is run by UMD's math department. The program exposes students to math topics that they may not come across in their normal curriculum. Alexander teaches network science.
After she earns her doctorate, Alexander envisions applying her data science skills to biotech research.
"The intersection of biology, computer science and statistics is the most exciting place to me, and goal-oriented industry research seems like a perfect place for that," she says.
Written by Melissa Brachfeld